Hooray, we finally made it to an event that didn't get rained (or
snowed
) out! Yesterday my friends and I went to the historic village at Allaire State Park to see our friend get fake-married as Maria Allaire. We all even made new dresses for the occasion!
And then last Sunday I got a bee in my bonnet (ha. ha. ha) to make a dress to go with my pretty pink bonnet! Something quick and lightweight, ideally a sheer. I didn't have much in the Stash; my options basically were a light blue voile and a mint green lawn (the same lawn I made my 1920s summer dress from, as it happens). There was just about the same amount of each, just over 4 yards...but the lawn was wider, so it carried the day!
Construction: Probably 90% machine sewn! The bodice gathers and sleeve ruffle gathers are done by hand, all the rest of the gathering is ugly machine. Basically, the finishings are done by hand (tacking down the piping at the neckline, hemming the skirt), everything else is machined. I even pinked the edge of the sleeve ruffle rather than hemming! The lawn seems to be tightly woven enough to survive at least a few wearings like that.
The mitts are from my 18thc pattern, made slightly smaller to account for more stretch in the net. Made of plain cotton net and probably-cotton lace, hand-sewn.
Worn over my 1844 corset, late '30s chemisette, 18thc plain linen petticoat, and new corded petticoat. Which is also machine-sewn! Too many tucks to do by hand...I have to draw the line somewhere. ;) As for sleeve puffs...well, I did buy a feather pillow with the intention of making proper puffs, but I decided I wanted to devote my time to sewing mitts instead. So these sleeves are held out with a yard of nylon petticoat net, cut in half, with one side wadded up and shoved into each sleeve. Well, it worked!
It gaps more while spinning around ridiculously, LOL.
I'm also pleased with my bonnet - it's fairly heavily tweaked from the Lynn McMasters Romantic bonnet pattern. Alice's green bonnet is untweaked from said pattern. I want to mess with the bottom edge of the brim before I make another version, as the angle doesn't work with a curtain, but other than that I like it very much. I was vaguely inspired by an 1832 fashion plate in one of my books for the two bows inside the brim, but other than that I just worked with what I had.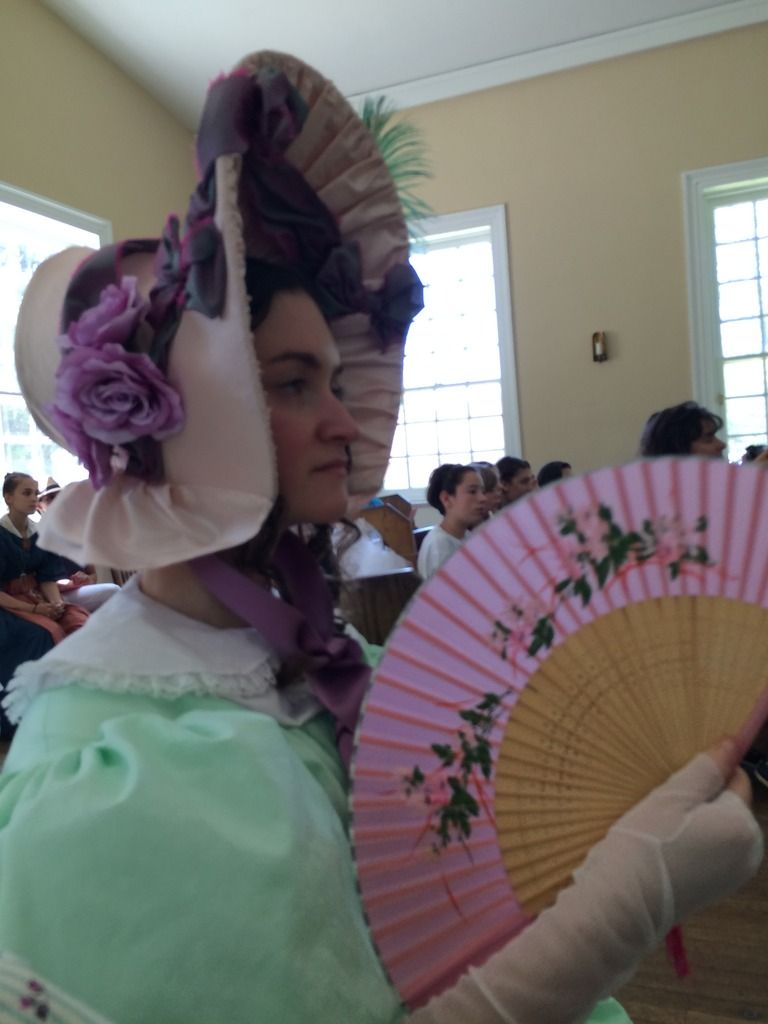 Promise I wasn't as cranky as this pic makes me look. ;)
Alice's bonnet is covered in the same type of dupioni, just in green. I covered it, and she trimmed it.
Lesson: it is virtually impossible to get the inner brim of a bonnet smooth when said bonnet is the size of a small spaceship! At least for me, haha.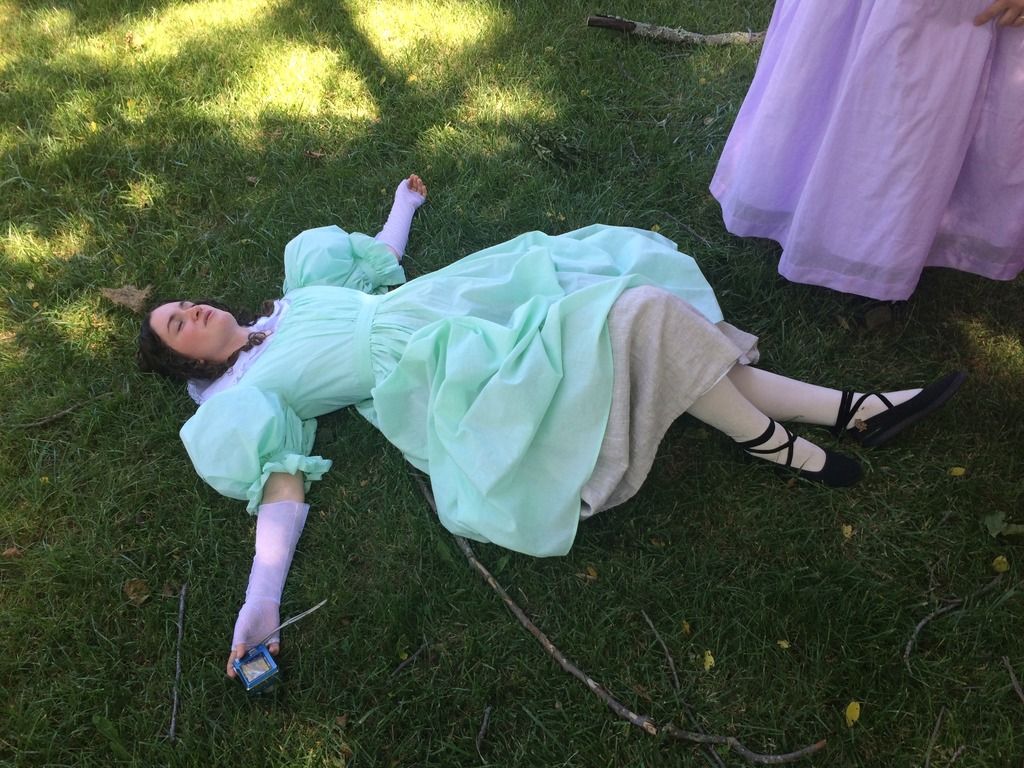 ...despite doing things like this. xD
s